Conferences Past & Future
NOHANZ Biennial Conference 2018: "Te Waha Kairongorongo e": The Voice in Time and Space
NOHANZ invites abstract submissions for our biennial conference to be held at the University of Waikato, Hamilton, Wednesday 28 and Thursday 29 of November 2018. Read the call for abstracts
---
Past local conferences

NOHANZ biennial conference Tell me more : Sharing our Stories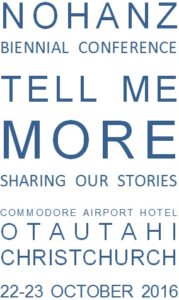 Read the Programme.
NOHANZ Biennial General Meeting was held 21 October 2016, followed by guest speaker Anna Cottrell's short film Voices of Children, in which Christchurch children tell stories of the Big Quake
BGM Election results
President: Nepia Mahuika
Secretary: Sue Monk
Treasurer: Debbie Dunsford
Past-president: Ann Packer
Committee members: Belinda De Mayo, Sue Gee, Lynette Shum
Co-opted committee members: Marina Fontein, Ruth Low
Biennial General Meeting Agenda
Executive Roles
The Jack Ilott Oral History Education Fund may be able to help you attend Conference
http://natlib.govt.nz/about-us/scholarships-and-awards/jack-ilott-fund
More detail including rates and 2014 Meeting Minutes on our Conference Page
PHANZA mini-conference
The Professional Historians' Association of New Zealand/Aotearoa (PHANZA) is seeking proposals for papers, presentations, panels, or speakers for a mini – conference on
"Piecing Together the Jigsaw: Information and Where to Find It"
Saturday 8 October 2016
St Andrew's on the Terrace, Wellington
http://phanza.org.nz/files/PHANZA_Call_for_proposals_Oct_seminar.pdf
http://phanza.org.nz/content/phanza-mini-conference-wellington-call-papers-presentations-panels-or-speakers
NOHANZ Conference 2014 The Gift of Memory was held over the weekend 20 /21 September 2014
The busy weekend of 20,21 September 2014 "The Gift of Memory" is itself now a fond memory.
Conference flyer
Workshops Friday 19 September 2014
Workshop Programme as docx
Workshop Programme as pdf
See the NOHANZ Newsletter December 2014 for conference reports
NOHANZ Regional Symposium, Auckland on Friday 10/Saturday 11 May 2013: "
Describing the Wave: Perspectives on making and interpreting oral history in the digital age – Information
NOHANZ Conference 2011
The biennial Nohanz conference, 'Oral History in the 21st Century: Voices of Identity in a Globalised World', was held in Rotorua between 2 and 3 April 2011. Keynote speakers were Lorina Barker, Associate Lecturer from the School of Humanities at the University of New England in New South Wales, and Teresia Teaiwa, Senior Lecturer Pacific Studies, Va'aomanu Pasifika, Victoria University of Wellington.
The proceedings also included a retrospective on the work of noted Rotorua historian, the late Don Stafford, presented by Kerry Fowler.
NOHANZ Conference 2009
The 2009 Nohanz conference 'Using Oral History in Communities' was held in Wellington on Saturday 31 October and Sunday 1 November 2009. Keynote speakers were Gaylene Preston, oral historian and film maker, Pip Desmond, oral historian and writer, and Jack Perkins, oral historian and broadcaster.
For more information see the December 09 Newsletter here
On the Christchurch City Library website there is a conference report from Marion, a participant, and comments www.cclblog.wordpress.com/2009/11/04/community-voices/
---
Past overseas conferences 
Remembering Beliefs – The Shifting Worlds of Religion and Faith in Secular Society at Leeds Trinity University
The Annual Conference of the Oral History Society in conjunction with Newman University and Leeds Trinity University
Friday, 14th and Saturday, 15th July, 2017 at Leeds Trinity University, Horsforth, Leeds, LS18 5HD
In recent years, belief and non belief have developed new significance. What might once have been valued as something individual and private in many contexts only a generation ago can now be a matter of open identification and even confrontation and judgement. Read their page.
Australian Biennial National Oral History Conference
Oral History NSW invite you to join them in Sydney from 13 – 16 September 2017
https://gallery.mailchimp.com/231443adf37b68f9e01da10ad/files/Oral_History_banner_Call_for_Papers.pdf
Getting It Done – Crunch Time for Audio Archives
Australasian Sound Recordings Association (ASRA)
Annual Conference
National Film & Sound Archive
McCoy Circuit Canberra
Wednesday 30th August to Friday 2nd September 2016
Call For Papers
The conference organising committee is pleased to announce a call for papers for the 2016 ASRA Conference.
http://www.asra.asn.au/events/conference_2016.htm
XIXth International Oral History Conference hosted by the International Oral History Association (IOHA) and the Oral History Association of India (OHAI) at the Srishti Institute of Art, Design and Technology, Bengaluru, India from 27 June to 1 July 2016.
The theme of the conference was Speaking, Listening, Interpreting: the critical engagements of Oral History
http://www.iohanet.org/next-congress/
 OHA 2015 Annual Meeting, Tampa Florida, USA, 14-18 October 2015
The OHA met in Tampa, Florida from October 14-18 at the Marriott Tampa Waterside near historic Ybor City and St. Petersburg. The conference hotel is minutes away from world-renowned beaches, art galleries, street cars, and walking tours of one of the most storied factory complexes in the Americas.
The goal is to: "uncover links between political and cultural change to inspire civic engagement."
http://www.oralhistory.org/annual-meeting/
Australia
OHA (Australia) Conference, Perth, Western Australia, 9-12 September 2015
Fast Forward: Oral History in a Time of Change – the major conference theme addressed the changes in technology and its impact on the recording, and application of oral history.
oralhistoryaustralia.org.au/page/conferences.html
Conference Ireland
The Oral History Network of Ireland had its 2014 Conference on the theme 'Making Connections: Oral History and Community'. This two day conference will took place on Friday and Saturday, 12th – 13th September 2014 at the historic venue of Butler House in Kilkenny City.
more..
Oral histories of Science, Technology and Medicine
The 2015 Annual Conference of the Oral History Society in conjunction with Royal Holloway University of London and the Oral History of British Science at the British Library, with support from the Wellcome Trust
Royal Holloway, University of London, Egham, Surrey TW20 0EX, UK
From: 10th July 2015
To: 11th July 2015
http://www.ohs.org.uk/conference.php?conf=5&status=0
Oral History Association (IOHA) Conference XVIII
Barcelona, 9-12 July 2014, Power and Democracy: the many voices of oral history. More at:
2014iohacongress.wordpress.com
See Rob Perks' post to H-List inviting interest in forming a panel to discuss online publication of oral history.
Oral History Society (UK) 2014
The 2014 conference of the Oral History Society (UK) on the theme Community Voices: Oral History on the ground was held in Manchester on 18 & 19 July 2014.
ohs.org.uk
National Oral History Association of New Zealand
Te Kete Kōrero-a-Waha o Te Motu
P.O. Box 3819, WELLINGTON
Contact NOHANZ
© NOHANZ 2001-2014