Welcome to the NOHANZ Website
National Oral History Association of New Zealand
Te Kete Kōrero-a-Waha o Te Motu
Fostering professional standards in oral history, and bringing together those interested in oral history Read more
See the National Library collection catalogue
---
New Zealand Oral History Awards 2017
Recipients: http://www.mch.govt.nz/funding-nz-culture/ministry-grants-awards/new-zealand-oral-history-awards
Read the Article http://www.mch.govt.nz/oral-history-awards-tell-our-stories
Judith Aitken – Women in a disabling world, $3,500.00
Golden Bay Museum Society – Golden Bay Women in Farming, $3,000.00
Linda Hepburn – South Island Rowing – A History, $10,000.00
Ruth Greenaway, Mahajabeen Padamsee & Peter Buchanan – The research legacy of women Mycologists in Aotearoa / New Zealand, $7,000.00
Sue Bradford & Karen Davis (ESRA) – Hidden histories: Voices from a network of Autonomous : peoples' organisations originating from the Auckland Unemployed Workers' Rights Centre 1983 – 1999, $9,000.00
Lena Fransham – Talking About Otito Reserve : What the Community Knew, $2,300.00
Dr Grace Maia Millar – The Wellington Clerical Workers Union Oral History Project, $4,800.00
Te Au Mārie 1769 Sestercentennial Charitable Trust – Mapping our Stories Oral History Project,  $6,300.00
Aaron Fox – Children of the Revolution: Communist Childhoods in New Zealand, $6,300.00
Renee Liang – A Place to Stand: Intergenerational Oral Histories of Croatians based in West Auckland, $4,800.00
Prue Langbein – Seven by Twelve – Voices of New Zealand Children, $6,750.00
Ross Webb – Drawing the line on Union Influence': The Meat Workers Union and the Talleys / AFFco,  $6,000.00
Dr Nadia Gush – Out and About: Lesbian Social Life in the 1980s, $5,250.00
Joanna Petrie – Korero mai e te Whare. Ask that Whare, $6,375.00
Robyn Tauroa – Sailors Seeking Cultural Refuge,  $5,000.00
Melissa Matutina Williams & Whina Te Whiu – He Puna Maumahara no Te Unga Waka Marae: an enduring source of stories, 1966 – 2016, $10,000.
NOHANZ congratulates Taina Tangaere-McGregor
Taina was recently named as a Kiwibank Local Hero 2017 ..more..

UPCOMING EVENTS & Calendar
Alexander Turnbull Library Outreach Services offer workshops for people considering using oral history in their work, community or personal projects.
Wellington Workshops
Wellington: August
Abstracting Oral History
Saturday and Sunday
12 & 13 August 2017 8.45am-1pm
View the Flyer
Wellington Workshops (2)
View the Flyer for Series 2
Wellington: July & August
Day One: Introduc0on to Oral History
Saturday 8 July 2017 8.45am-4.30pm
Day Two: Recording Seriously
Saturday 26 August 2017 8.45am-4.30pm

Wellington Abstracting Oral History
Saturday and Sunday
12 & 13 August 2017 8.45am-1pm
(Please note dates are between Days One and
Two of this series)
Workshops Palmerston North
Essentials of oral history research
This is a two day course
Day 1 Introduction to oral history 9 September 2017
Day 2 Recording seriously 7 October 2017 ..more..
International Meetings:
Indigenous Oral Histories Seminar – Sydney
Time: July 29, 2017 from 11am to 12:45pm
Location: Sydney
Organized By: Oral History NSW
Indigenous Oral Histories Seminar
From community-driven and university-based projects, to the collecting initiatives of libraries, archives and museums, the oral history work being undertaken with Indigenous communities across Australia is extensive. In this seminar, you'll hear from Associate Professor Heidi Norman, who has expertise in conducting research about Aboriginal land rights, Dr. Dino Hodge, an activist and academic renowned for his explorations of Indigenous Australian queer histories, and archivist Kirsten Thorpe, who leads the Indigenous Services team at the State Library of NSW. The session will be chaired by Kate Waters – an experienced professional historian with expertise in ethical approaches to conducting oral history interviews with Aboriginal communities.
Registration fees
Members of Oral History NSW: $20  Non-Members: $30
For all enquiries please contact Cheryl Ware at  events@oralhistorynsw.org.au
Oral History Australia Biennial National Conference 2017
Moving memories: oral history in a global world
Venue: SMC Conferene and Function Centre, Sydney Australia
Date: 13 – 16 September 2017
Website:  https://dcconferences.eventsair.com/QuickEventWebsitePortal/ohac17/cs
Important Dates:
Early Bird Registration closes: 30 June 2017
Contact: Conference Secretariat: DC Conferences, 02 9954 4400 or ohac2017@dcconferences.com.au
---
Call for papers: Twelfth European Social Science History conference, Belfast, 4-7 April 2018, Oral history and life stories networks
The International Institute of Social History will organize the Twelfth European Social Science History conference in Belfast, 4-7 April 2018 at Queens University.
Oral History and Life Stories Network's call for papers:
TIME IN ORAL HISTORY AND LIFE STORIES
The Oral History and Life Stories Network brings together oral historians and life stories practitioners who use oral histories to explore memory, narrative and history.
The call for papers for the 2018 IOHA congress "Memory and Narration", Jyväskylä, Finland is now open!
---
Two Workshops in the USA
NEW WORKSHOPS: Oral History Summer Schools in (NZ winter) Upstate New York (June 28-July 6) and Chicago (July 26-Aug 3)
August 7-11: The 2017 UC Berkeley Advanced Oral History Summer Institute
more on our Notices Page.
---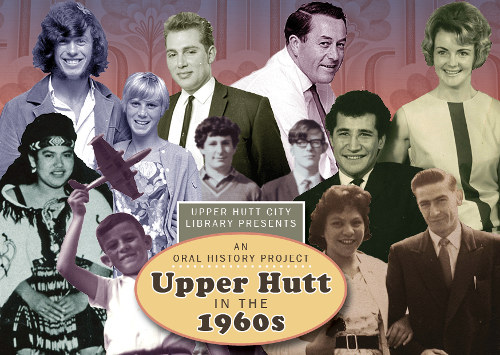 Upper Hutt 50th Anniversary
Caren Wilton has conducted an oral history project at Upper Hutt City Library as part of the celebrations for the 50th anniversary of Upper Hutt becoming a city. The interviews are available from the library's Recollect heritage collection website at http://uhcl.recollect.co.nz/nodes/view/24810
See the poster.
---
We have reprinted the popular Māori and Oral History: A Collection.
 Edited by Alison Laurie and Rachel Selby, the book comprises a selection of papers previously published in Oral history in New Zealand between 1989 and 2003. It includes articles by Monty Soutar, Te Ahukaramu C. Royal, Parekawhia McLean, Mere Whaanga, Hirini Moko Mead, Wheturangi Walsh-Tapiata, Cushla Parekowhai, Mita Carter, Joe Pere, Danny Keenan, Mervyn McLean, Rachael Selby, Alison Laurie, Heeni Colllins, Verna Tuteo et al., Angela Ballara and Pip Desmond.
Copies are available for $25, to secure your copy please email infonohanz@oralhistory.org.nz or phone Taina McGregor: DDI 04 462 3976 Taina.McGregor@dia.govt.nz
Alexander Turnbull Library Oral History training
For expressions of interest in possible courses, please contact… atloutreach@dia.govt.nz
---
Comments on the Boston College case
The Oral History Society (UK) has issued a statement on the Boston College Belfast Project: more…
The USA Oral History Association has issued a statement: here…
The Oral History Network of Ireland statement:
An online discussion here
---
NOHANZ is always improving oralhistory.org.nz
Comments, complaints, criticisms, and commendations regarding what you find here are welcome.
National Oral History Association of New Zealand
Te Kete Kōrero-a-Waha o Te Motu
P.O. Box 3819, WELLINGTON, 6140
Contact NOHANZ
© NOHANZ 2001-2014