Welcome to the NOHANZ Website
National Oral History Association of New Zealand
Te Kete Kōrero-a-Waha o Te Motu
Fostering professional standards in oral history, and bringing together those interested in oral history Read more
See the National Library collection catalogue
---
New Zealand Oral History Awards
See our Notices Page or http://www.mch.govt.nz/funding-nz-culture/ministry-grants-awards/new-zealand-oral-history-awards
 A New Course at Waikato University
HIST380-17A HAM : Special Topic: Oral History in Indigenous Perspective: Stories of Moana, Maui, and Native Appropriation
Faculty of Arts and Social Sciences History Programme
This paper introduces students to the inter-connected histories that follow Maui and "Moana" through the Pacific via an analysis of Māori oral history research. It explores the contemporary appropriations of indigenous histories in film, gaming, texts, and productions like the recent Disney motion-picture Moana, and asks: What is the impact of these appropriations on indigenous history, knowledge, and orality? Students will examine key themes and questions in indigenous oral history, focusing on the form, methods, ethics, theories, and the decolonial politics of native oral history.
Dr Nēpia Mahuika nmahuika@waikato.ac.nz
https://papers.waikato.ac.nz/subjects/HIST/HIST380
NOHANZ congratulates Taina Tangaere-McGregor
Taina was recently named as a Kiwibank Local Hero 2017
Tēnā Koutou
I am delighted to let you all know that Taina was recently named as a Kiwibank Local Hero 2017. The awards "aim to identify & reward everyday people doing extraordinary things in their local communities. The Local Hero Awards recognises the enormous contribution, sacrifice and commitment of Kiwis who selflessly work to make their local communities a better place."
The medal presentation ceremony was held in the Banquet Hall at Parliament on Monday, with 35 Wellingtonians being honoured (I am sure you will recognise a number of the names). There is a photo and list on the Kiwibank New Zealander of the Year website (under News). http://nzawards.org.nz/news/
Taina's citation reads:
Taina Tangaere-McGregor (Wellington)
Taina is of Ngati Porou descent and is passionate about preserving the history of the achievements of her race.
Now in her seventies, she still works tirelessly for Alexander Turnbull library as an oral history adviser for Maori. She travels the length and breadth of Aotearoa to interview multitudes of people both Maori and Pakeha.
Taina trains Maori people to effectively archive their oral history and works tirelessly to preserve the Maori language for generations to come.
She is creative and through teaching other Maori how to use video cameras, she is keeping interest in the Maori language alive in the present population.
Ngā mihi nui me te aroha nui Taina
UPCOMING EVENTS & Calendar
One day Oral History Training Workshops, New York, USA, 28 January 2017
A series of interactive public workshops on oral history methods and practice at the Columbia School of Journalism on Saturday, January 28 from 9:30 to 5 p.m.
To review the full course descriptions, faculty bios, and registration information, visit the January 28 One-Day Workshops page on the Oral History M.A. program (OHMA) website.
Oral History Society in conjunction with Newman University and Leeds Trinity University presents:
Remembering Beliefs – The Shifting Worlds of Religion and Faith in Secular Society at Leeds Trinity University
Read their site or go to our conferences page for a summary
Australian Biennial National Oral History Conference
Oral History NSW invite you to join them in Sydney from 13 – 16 September 2017
https://gallery.mailchimp.com/231443adf37b68f9e01da10ad/files/Oral_History_banner_Call_for_Papers.pdf
Working with Memories
Call for Papers: Working with Memories: Australasian Oral History Strand at the Australian Historical Association 36th Annual Conference
Newcastle, Australia
Monday 3 July to Friday 7 July 2017.
read the pdf
---
Two Workshops in the USA
NEW WORKSHOPS: Oral History Winter School will offer two focused workshops in January 2017 in Upstate New York
August 7-11: The 2017 UC Berkeley Advanced Oral History Summer Institute
more on our Notices Page.
---
The Friends of the Hocken Collections celebrate 25 years
A one-off award of $10,000 for research into an aspect of the historical development of Māori or Pakeha culture and society in Aotearoa/New Zealand using the Hocken Collections is offered by the Friends of the Hocken Collections. More details on our Notices Page.
---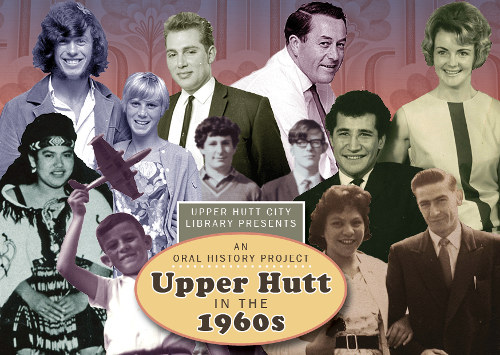 Upper Hutt 50th Anniversary
Caren Wilton has conducted an oral history project at Upper Hutt City Library as part of the celebrations for the 50th anniversary of Upper Hutt becoming a city. The interviews are available from the library's Recollect heritage collection website at http://uhcl.recollect.co.nz/nodes/view/24810
See the poster.
---
We have reprinted the popular Māori and Oral History: A Collection.
 Edited by Alison Laurie and Rachel Selby, the book comprises a selection of papers previously published in Oral history in New Zealand between 1989 and 2003. It includes articles by Monty Soutar, Te Ahukaramu C. Royal, Parekawhia McLean, Mere Whaanga, Hirini Moko Mead, Wheturangi Walsh-Tapiata, Cushla Parekowhai, Mita Carter, Joe Pere, Danny Keenan, Mervyn McLean, Rachael Selby, Alison Laurie, Heeni Colllins, Verna Tuteo et al., Angela Ballara and Pip Desmond.
Copies are available for $25, to secure your copy please email nohanzexec@gmail.com or phone Taina McGregor: DDI 04 462 3976 Taina.McGregor@dia.govt.nz
Alexander Turnbull Library Oral History training
For expressions of interest in possible courses, please contact… atloutreach@dia.govt.nz
---
Comments on the Boston College case
The Oral History Society (UK) has issued a statement on the Boston College Belfast Project: more…
The USA Oral History Association has issued a statement: here…
The Oral History Network of Ireland statement:
An online discussion here
---
NOHANZ is always improving oralhistory.org.nz
Comments, complaints, criticisms, and commendations regarding what you find here are welcome.
National Oral History Association of New Zealand
Te Kete Kōrero-a-Waha o Te Motu
P.O. Box 3819, WELLINGTON, 6140
Contact NOHANZ
© NOHANZ 2001-2014