Welcome to the NOHANZ Website
National Oral History Association of New Zealand
Te Kete Kōrero-a-Waha o Te Motu
Fostering professional standards in oral history, and bringing together those interested in oral history Read more
See the National Library collection catalogue
---
Auckland War Memorial Museum: require a half-time curator of Documentary Heritage. The appointee will be responsible for delivering an oral history programme. ..more..
NOHANZ Auckland regional hui at the South Auckland Research Centre
22nd April, Level One, Manukau City Library.  ..more..
New Zealand Oral History Awards
See our Notices Page or http://www.mch.govt.nz/funding-nz-culture/ministry-grants-awards/new-zealand-oral-history-awards
NOHANZ congratulates Taina Tangaere-McGregor
Taina was recently named as a Kiwibank Local Hero 2017 ..more..

UPCOMING EVENTS & Calendar
Alexander Turnbull Library Outreach Services offer workshops for people considering using oral history in their work, community or personal projects.
Auckland Workshop
Auckland: June
Abstracting Oral History
Saturday and Sunday
10 & 11 June 2017 8.45am-1pm
Wellington Workshops
This course is already fully subscribed.  However we are now accepting names for an Expressions of Interest List, in case there is sufficient demand to run an extra session.
Wellington: June & July
Day One: Introduction to Oral History
Saturday 24 June 2017
8.45am-4.30pm
Day Two: Recording Seriously
Saturday 22 July 2017
8.45am-4.30pm See the poster and the flyer
View the Flyer
Wellington: August
Abstracting Oral History
Saturday and Sunday
12 & 13 August 2017 8.45am-1pm
View the Flyer
International Meetings:
Spring (NZ autumn) Workshops at the Vermont Folklife Center: https://www.vermontfolklifecenter.org/workshops/
Baylor University Institute for Oral History's "Sharpen Your Skills." Topics for this workshop will include preparing interviewees, cross-cultural interviewing, redirecting narrators, handling difficult interviewees, and managing the interviewer-narrator relationship.
This interactive workshop will take place on May 31, 2017 from 10 am to 1 pm CDT and costs $75. Registration closes on May 24th ..more..
Oral History and Aging: Transmitting Life Stories of Being and Becoming Across Cultures and Generations, which will bring together aging experts, renowned oral historians, activists, and practitioners from June 5-16, 2017 in New York. Read more
Oral History Society in conjunction with Newman University and Leeds Trinity University
Remembering Beliefs – The Shifting Worlds of Religion and Faith in Secular Society at Leeds Trinity University
Read their site or go to our conferences page for a summary
Call for Papers: Oral Histories of Work & Leisure 23rd & 24th June 2017, Galway City
The Oral History Network of Ireland (OHNI) is pleased to announce its 2017 conference on the theme of 'Work & Leisure'.  This two day conference will take place in the Connacht Hotel, Galway on Friday 23rd and Saturday 24th June.
Read their site or see our events calendar
Working with Memories
Call for Papers: Working with Memories: Australasian Oral History Strand at the Australian Historical Association 36th Annual Conference: Newcastle, Australia
Monday 3 July to Friday 7 July 2017.
read the pdf
Oral History Australia Biennial National Conference 2017
Moving memories: oral history in a global world
Venue: SMC Conferene and Function Centre, Sydney Australia
Date: 13 – 16 September 2017
Website:  https://dcconferences.eventsair.com/QuickEventWebsitePortal/ohac17/cs
Call for papers flyer – http://tinyurl.com/hphcyon
Important Dates:
Call for papers close – 31 January 2017
Registration opens – 31 March 2017
Contact: Conference Secretariat: DC Conferences, 02 9954 4400 or ohac2017@dcconferences.com.au
---
Call for papers: Twelfth European Social Science History conference, Belfast, 4-7 April 2018, Oral history and life stories networks
The International Institute of Social History will organize the Twelfth European Social Science History conference in Belfast, 4-7 April 2018 at Queens University.
Oral History and Life Stories Network's call for papers:
TIME IN ORAL HISTORY AND LIFE STORIES
The Oral History and Life Stories Network brings together oral historians and life stories practitioners who use oral histories to explore memory, narrative and history.
The call for papers for the 2018 IOHA congress "Memory and Narration", Jyväskylä, Finland is now open!
---
Two Workshops in the USA
NEW WORKSHOPS: Oral History Summer Schools in (NZ winter) Upstate New York (June 28-July 6) and Chicago (July 26-Aug 3)
August 7-11: The 2017 UC Berkeley Advanced Oral History Summer Institute
more on our Notices Page.
---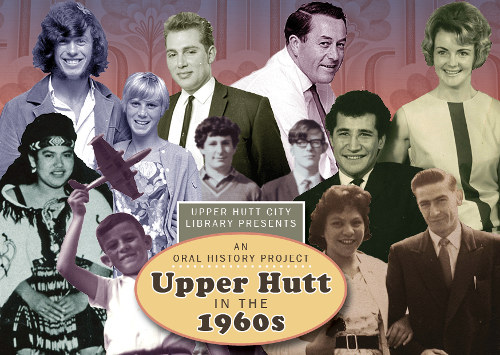 Upper Hutt 50th Anniversary
Caren Wilton has conducted an oral history project at Upper Hutt City Library as part of the celebrations for the 50th anniversary of Upper Hutt becoming a city. The interviews are available from the library's Recollect heritage collection website at http://uhcl.recollect.co.nz/nodes/view/24810
See the poster.
---
We have reprinted the popular Māori and Oral History: A Collection.
 Edited by Alison Laurie and Rachel Selby, the book comprises a selection of papers previously published in Oral history in New Zealand between 1989 and 2003. It includes articles by Monty Soutar, Te Ahukaramu C. Royal, Parekawhia McLean, Mere Whaanga, Hirini Moko Mead, Wheturangi Walsh-Tapiata, Cushla Parekowhai, Mita Carter, Joe Pere, Danny Keenan, Mervyn McLean, Rachael Selby, Alison Laurie, Heeni Colllins, Verna Tuteo et al., Angela Ballara and Pip Desmond.
Copies are available for $25, to secure your copy please email nohanzexec@gmail.com or phone Taina McGregor: DDI 04 462 3976 Taina.McGregor@dia.govt.nz
Alexander Turnbull Library Oral History training
For expressions of interest in possible courses, please contact… atloutreach@dia.govt.nz
---
Comments on the Boston College case
The Oral History Society (UK) has issued a statement on the Boston College Belfast Project: more…
The USA Oral History Association has issued a statement: here…
The Oral History Network of Ireland statement:
An online discussion here
---
NOHANZ is always improving oralhistory.org.nz
Comments, complaints, criticisms, and commendations regarding what you find here are welcome.
National Oral History Association of New Zealand
Te Kete Kōrero-a-Waha o Te Motu
P.O. Box 3819, WELLINGTON, 6140
Contact NOHANZ
© NOHANZ 2001-2014