Welcome to the NOHANZ Website
National Oral History Association of New Zealand
Te Kete Kōrero-a-Waha o Te Motu
Fostering professional standards in oral history, and bringing together those interested in oral history Read more
See the collection catalogue
---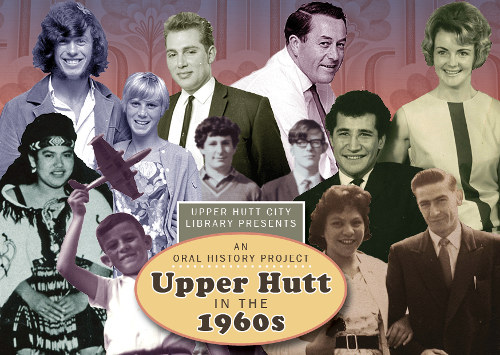 Over the last six months Caren Wilton has run an oral history project at Upper Hutt City Library as part of the celebrations for the 50th anniversary of Upper Hutt becoming a city. The launch for the oral history collection at the library (844 Fergusson Drive, Upper Hutt) is on Wednesday 13 July 2016 at 5.30pm. All welcome. The interviews are available from the library's Recollect heritage collection website at http://uhcl.recollect.co.nz/nodes/view/24810
See the poster.
---
NOHANZ biennial conference Tell me more : Sharing our Stories
SAVE THE DATE: Christchurch 22-23 October 2016
Registration opens 5 July
We hope to bring you workshop and conference programme details soon
Read the Poster
More detail and rates on our Conference Page
---
New Oral History Site
http://www.maorinursinghistory.com/ This website makes available on-line a rich collection of oral history interviews with Māori who practised as mental health nurses between 1950-1990.
---
New Zealand Oral History Awards
The New Zealand Oral History Awards (NZOH) provide financial help for the recording of interviews relating to the history of New Zealand/Aotearoa and its close connections with the Pacific.
The closing date for applications for the 2016 round was in April 2016.
More at  – http://www.mch.govt.nz/funding-nz-culture/ministry-grants-awards/new-zealand-oral-history-awards
Congratulations to all the hard working recipients.
We have reprinted the popular Māori and Oral History: A Collection.
 Edited by Alison Laurie and Rachel Selby, the book comprises a selection of papers previously published in Oral history in New Zealand between 1989 and 2003. It includes articles by Monty Soutar, Te Ahukaramu C. Royal, Parekawhia McLean, Mere Whaanga, Hirini Moko Mead, Wheturangi Walsh-Tapiata, Cushla Parekowhai, Mita Carter, Joe Pere, Danny Keenan, Mervyn McLean, Rachael Selby, Alison Laurie, Heeni Colllins, Verna Tuteo et al., Angela Ballara and Pip Desmond.
Copies are available for $25, to secure your copy please email nohanzexec@gmail.com or phone Taina McGregor: DDI 04 462 3976
Oral History training in Christchurch
We are taking Expressions of Interest for a possible course in Christchurch later this year, please contact atloutreach@dia.govt.nz
---
UPCOMING EVENTS & Calendar

Alexander Turnbull Library oral history workshops
Wellington: Abstracting Oral History, Saturday & Sunday 25 June 2016
Auckland Workshops: May and June 2016
For more information please contact the Oral History Adviser lynette.shum@dia.govt.nz
Victoria University Oral history course: Studying Working Lives in New Zealand through Oral History
Dr Cybele Locke teaches an oral history course at Victoria University of Wellington's School of History, Philosophy, Political Science and International Relations.
"In HIST 312: 'Working lives in New Zealand' we explore how the meaning of work has changed over time in Aotearoa/New Zealand, from 1880 to 2000. We read texts that use oral history to explore how work has been categorised in the past geographically, by skill, gender, ethnic stereotypes, class and union.  We pay particular attention to how some work has been sidelined as 'non-work': voluntary or household labour.  Students in this course learn how to create their own oral history: conducting an interview with an older person about their working life-time and analysing the issues their interviewee raises in relation to secondary historical sources."
This course runs next from March to June, 2016.  For more information contact Dr Cybele Locke
---
NOHANZ has released the following revised and new documents for use by oral historians:
Recording Agreement Form version 2, September 2014 (replaces version 1a)
Oral History Recording Agreement Explanatory Notes for interviewers version 2, September 2014 (replaces version 1b)
Frequently Asked Questions About Completing the Recording Agreement Form (new)
Selecting a Repository
---
The New Zealand Oral History Awards
The recipients of the 2015 New Zealand Oral History Awards have been announced. Read more on the Ministry for Culture and Heritage website.
---
Comments on the Boston College case
The Oral History Society (UK) has issued a statement on the Boston College Belfast Project: more…
The USA Oral History Association has issued a statement: here…
The Oral History Network of Ireland statement:
An online discussion here
---
Upcoming overseas conferences
The next International Oral History Association (IOHA) conference will be organised by Indira Chowdrey and held at Bangalore in India in 2016
For more details and links see the Conferences page
Getting It Done – Crunch Time for Audio Archives
Australasian Sound Recordings Association (ASRA)
Annual Conference
National Film & Sound Archive
McCoy Circuit Canberra
Wednesday 30th August to Friday 2nd September 2016
Call For Papers
The conference organising committee is pleased to announce a call for papers for the 2016 ASRA Conference.
http://www.asra.asn.au/events/conference_2016.htm
---
NOHANZ is always improving oralhistory.org.nz
Comments, complaints, criticisms, and commendations regarding what you find here are welcome.
National Oral History Association of New Zealand
Te Kete Kōrero-a-Waha o Te Motu
P.O. Box 3819, WELLINGTON, 6140
Contact NOHANZ
© NOHANZ 2001-2014