Welcome to the NOHANZ Website
National Oral History Association of New Zealand
Te Kete Kōrero-a-Waha o Te Motu
Fostering professional standards in oral history, and bringing together those interested in oral history Read more
See the National Library collection catalogue
---
UPCOMING EVENTS & Calendar

NOHANZ biennial conference Tell me more : Sharing our Stories
Register now: Christchurch 22-23 October 2016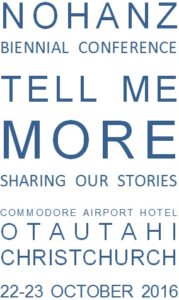 Earlybird registration extended to 31 August 2016
Read the Poster
Registration Form (docx)
Registration Form (pdf)
NOHANZ Seminars 9am-4:30pm 21 October
Details will be available soon
NOHANZ Biennial General Meeting 7:30pm, followed by guest speaker Anna Cottrell's short film Voices of Children, in which Christchurch children tell stories of the Big Quake
The Jack Ilott Oral History Education Fund may be able to help you attend Conference
http://natlib.govt.nz/about-us/scholarships-and-awards/jack-ilott-fund
More detail and rates on our Conference Page
---
Oral History Workshops – Wellington and Christchurch
Full details on our Notices Page.
Alexander Turnbull Library Outreach Services offer workshops for people considering using oral history in their work, community or personal projects. The workshops will be taught by Judith Fyfe, lawyer and oral historian, and Lynette Shum, Oral History Adviser.  The Wellington workshops will be held at the National Library, corner of Aitken and Molesworth Streets, Thorndon, Wellington.  The Christchurch workshops will be held at Shirley Intermediate School, Corner of Shirley Road and North Parade, Shirley, Christchurch
The Essentials of Oral History Research
A two-day course
Day One: Introduction to Oral History
Christchurch: Saturday 15 October 2016  8.45am-4.30pm See the poster (pdf)
Wellington: Saturday 5 November 2016  8.45am-4.30pm See the poster (pdf)
Day Two: Recording Seriously
Christchurch: Saturday 12 November 2016  8.45am-4.30pm
Wellington: Saturday 3 December 2016  8.45am-4.30pm
Full details on our Notices Page.
---
An opportunity exists for an enthusiastic, imaginative historian to join Manatū Taonga – Ministry for Culture and Heritage
Read about the job and the job description

---
The Friends of the Hocken Collections celebrate 25 years
A one-off award of $10,000 for research into an aspect of the historical development of Māori or Pakeha culture and society in Aotearoa/New Zealand using the Hocken Collections is offered by the Friends of the Hocken Collections. More details on our Notices Page.
---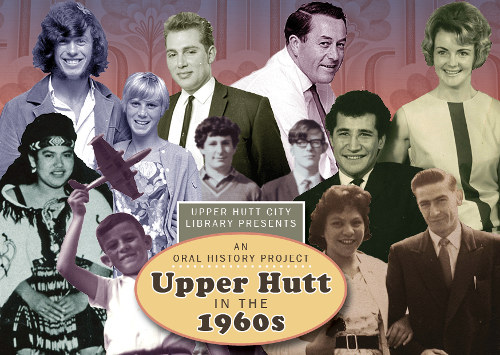 Upper Hutt 50th Anniversary
Over the last six months Caren Wilton has run an oral history project at Upper Hutt City Library as part of the celebrations for the 50th anniversary of Upper Hutt becoming a city. The interviews are available from the library's Recollect heritage collection website at http://uhcl.recollect.co.nz/nodes/view/24810
See the poster.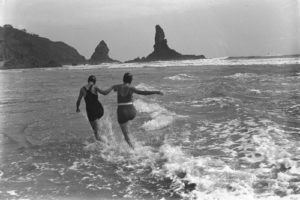 ---
 Seeking New Stories of the Old West
The Waitākere Ranges Local Board is seeking original research for a new heritage conference focused on West Auckland's history, called New Stories of the Old West.
Read more on our Notices Page.
---
PHANZA mini-conference
The Professional Historians' Association of New Zealand/Aotearoa (PHANZA) is seeking proposals for papers, presentations, panels, or speakers for a mini – conference on
"Piecing Together the Jigsaw: Information and Where to Find It"
Saturday 8 October 2016
St Andrew's on the Terrace, Wellington
http://phanza.org.nz/files/PHANZA_Call_for_proposals_Oct_seminar.pdf
http://phanza.org.nz/content/phanza-mini-conference-wellington-call-papers-presentations-panels-or-speakers
---
New Oral History Site
http://www.maorinursinghistory.com/ This website makes available on-line a rich collection of oral history interviews with Māori who practised as mental health nurses between 1950-1990.
Other NZ websites
http://www.nursinghistory.org.nz/index.php/An_Online_Archive_of_Nursing_Oral_Histories_in_NZ
http://www.pridenz.com/making_a_difference.html
https://archive.org/details/OccupyChristchurch
---
New Zealand Oral History Awards
The New Zealand Oral History Awards (NZOH) provide financial help for the recording of interviews relating to the history of New Zealand/Aotearoa and its close connections with the Pacific.
The closing date for applications for the 2016 round was in April 2016.
More at  – http://www.mch.govt.nz/funding-nz-culture/ministry-grants-awards/new-zealand-oral-history-awards
Congratulations to all the hard working recipients.
We have reprinted the popular Māori and Oral History: A Collection.
 Edited by Alison Laurie and Rachel Selby, the book comprises a selection of papers previously published in Oral history in New Zealand between 1989 and 2003. It includes articles by Monty Soutar, Te Ahukaramu C. Royal, Parekawhia McLean, Mere Whaanga, Hirini Moko Mead, Wheturangi Walsh-Tapiata, Cushla Parekowhai, Mita Carter, Joe Pere, Danny Keenan, Mervyn McLean, Rachael Selby, Alison Laurie, Heeni Colllins, Verna Tuteo et al., Angela Ballara and Pip Desmond.
Copies are available for $25, to secure your copy please email nohanzexec@gmail.com or phone Taina McGregor: DDI 04 462 3976 Taina.McGregor@dia.govt.nz
Alexander Turnbull Library Oral History training in Christchurch
For expressions of interest in a possible course in Christchurch later this year, or any oral history training elsewhere, please contact… atloutreach@dia.govt.nz
---
The New Zealand Oral History Awards
The recipients of the 2015 New Zealand Oral History Awards have been announced. Read more on the Ministry for Culture and Heritage website.
---
Comments on the Boston College case
The Oral History Society (UK) has issued a statement on the Boston College Belfast Project: more…
The USA Oral History Association has issued a statement: here…
The Oral History Network of Ireland statement:
An online discussion here
---
Upcoming overseas conferences
Getting It Done – Crunch Time for Audio Archives
Australasian Sound Recordings Association (ASRA)
Annual Conference
National Film & Sound Archive
McCoy Circuit Canberra
Wednesday 30th August to Friday 2nd September 2016
Call For Papers
The conference organising committee is pleased to announce a call for papers for the 2016 ASRA Conference.
http://www.asra.asn.au/events/conference_2016.htm
---
NOHANZ is always improving oralhistory.org.nz
Comments, complaints, criticisms, and commendations regarding what you find here are welcome.
National Oral History Association of New Zealand
Te Kete Kōrero-a-Waha o Te Motu
P.O. Box 3819, WELLINGTON, 6140
Contact NOHANZ
© NOHANZ 2001-2014